In our continued quest to find the perfect dessert, our event team travelled to San Francisco to make dreams come true. We went to the acclaimed Culinary Institute of America in St. Helena for a one day course to learn new dessert recipes and techniques.

We landed in a look-alike Hogwarts to create spun sugar and magic!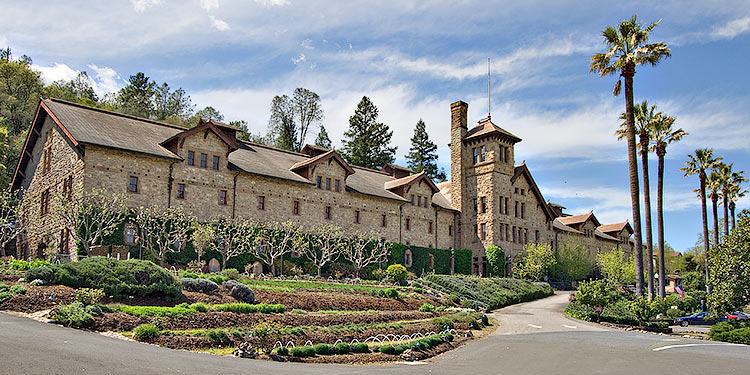 Culinary Institute of America, St. Helena, CA

Chef Dave Leyva had prepared several recipes for us to make and we had a great day at the CIA. Throughout the next several months we will share those with you if you want to attempt to make them at home. We hope that you will have the opportunity to try one in person on your next visit to the Indiana Roof Ballroom and leave the cooking to us!

As spring and summer approach, our first dessert is guaranteed to make you ooh and aah!

Deconstructed Lemon Meringue Pie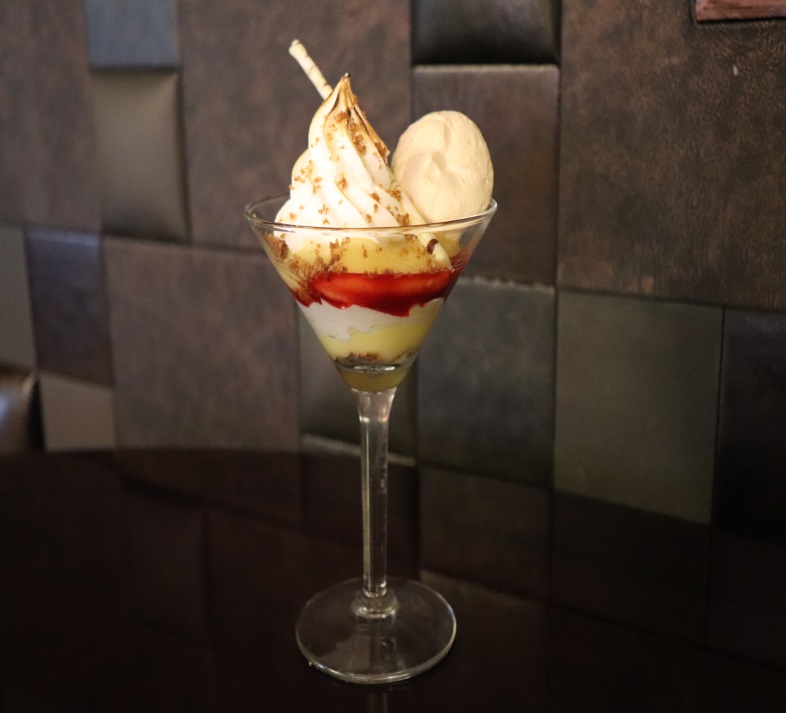 Recipe
Crumble 4 graham crackers, ½ cup brown sugar, ¼ teaspoon ground cinnamon, 4 tablespoons of butter melted, 1 teaspoon of vanilla extract, 2 tablespoons of granulated sugar, 1 tablespoon of kosher salt – combine the crackers, brown sugar and cinnamon. Stir in the butter and vanilla. Spread the mixture evenly on a rimmed cookie sheet and sprinkle the top with sugar and salt. Bake in the oven for 15 minutes or lightly browned.
Lemon Curd: 10 oz of sugar, 5oz melted butter, 3 eggs, 2 oz lemon juice, ½ lemon grated zest.
Whisk together the suar, butter, eggs and lemon juice and zest over low heat until the mixture is thick and coats the back of a spoon. Strain and cool the mixture quickly and completely. Set aside.
Swiss meringue: 6 oz egg whites(5-6 eggs), 9oz granulated sugar, 1/3 teaspoon kosher salt, ¼ teaspoon of cream of tartar, 1 vanilla bean, seeds scraped:
Fill a medium saucepan with at least 1 ½ inches of water and bring to a simmer. In the bowl of a stand mixer, combine the egg whites, sugar, salt, cream of tartar and vanilla seeds. Set the bowl over the steaming water, stirring constantly to dissolve the sugar. When the contents reaches 175F(candy thermometer), transfer to a mixing bowl and whip with a whisk on a mixer at high speed until the meringue is glossy and still.
To assemble: place graham crackers in the bottom of the glass, spoon in the lemon curd, use a pastry bag to pipe on the meringue and brulee. The raspberry coulis and meringue cookie in the photo are optional.
Enjoy!
Related Topics: Indianapolis Event Venue, Event Catering, Special Events, Menu Creation