We often have an opportunity to tie in event themes with menu presentation to enhance the overall guest experience. Recently we were asked to create menus with upscale concession food. Many large arenas around the United States have elevated the level of service and food in the private suite areas to offer upscale dining, however, the client wanted the more common comfort food that we all seek when at a ball game.

Our task is to present ideas that allow us to bring these types of food to the table in clever way that maintains all the criteria that we seek when offering a formal dinner service. The food can be cute and fun but it needs to appeal to the general public, be easy to eat, offer healthful items, maintain correct temperatures and be able to plate and serve for large groups of people within the time constraints given to serve the dinner!

We came up with several ideas to present. We liked them so much that we will offer some them in our standard menus! We hope that you enjoy them too.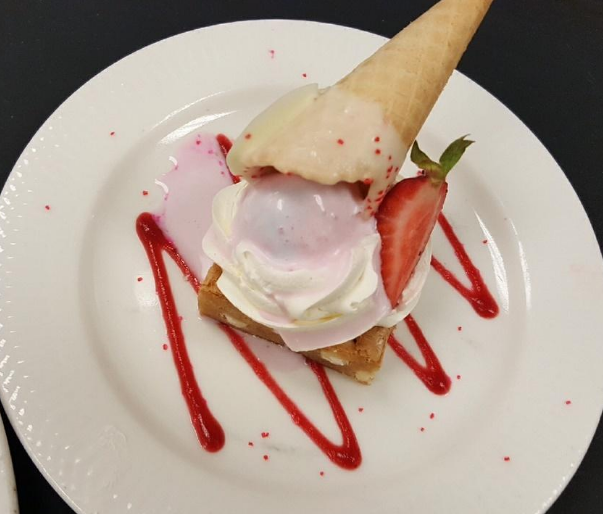 Blondie Brownie, Cloud of White Chocolate Mousse, Cotton Candy Ice Cream, White Chocolate Dipped Waffle Cone, Strawberry Garnish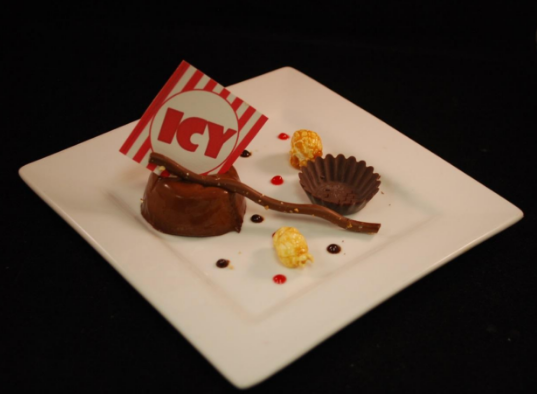 Chocolate Panna Cotta, Chocolate Cup filled with Salted Caramel Ice Cream (not shown), Caramel Corn, Chocolate Deco
Related Topics: Menu Creation, Events at the Indiana Roof, Indianapolis Event Catering, Indianapolis Event Venue, Event Catering, Special Events