Dr. Pepper Big 10 Championship Weekend
The Indiana Roof Ballroom was thrilled to host a corporate party for Dr. Pepper, one of the sponsors of the Big 10 Football Championship, on Friday, December 6, 2013. The Roof was transformed into a raucous cocktail party complete with a three-sided Dr. Pepper themed bar, dueling pianos and an aerialist. The theme highlighted Dr. Pepper through the years. The dueling pianos got guests involved in singing popular tunes from decades past and the aerialist wowed onlookers with poetic movements high above the crowd.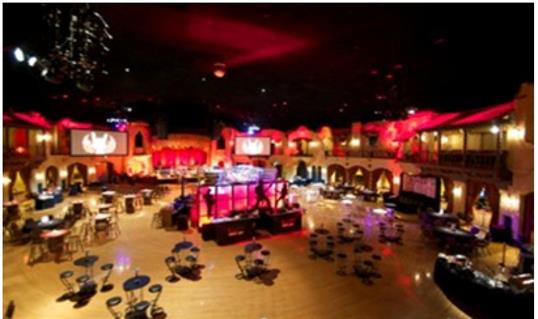 The night had special meaning for several guests in attendance. The event surrounding the Big Ten Football Championship hosted the finalist in a contest to win a college scholarship. The finalist would compete the next night at the championship game to win the grand prize, a $100,000 scholarship. Dr. Pepper has given away $1,000,000 in tuition in 2013 to help students pursue their dreams.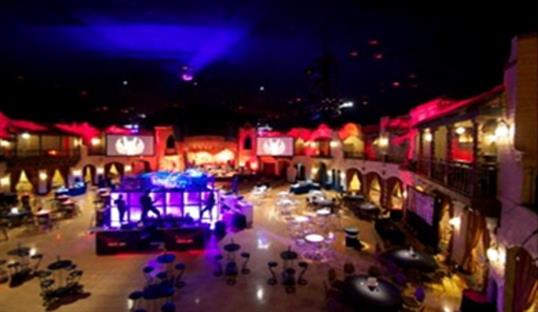 The Indiana Roof Ballroom was chosen to host this Dr. Pepper event because of its perfect location, beautiful setting, outstanding food and service and its overall grandeur. The Roof is ideal for large corporate events, as well as wedding ceremonies and receptions. Contact us if you are interested in having your own special or corporate event at the Indiana Roof Ballroom!
Related Topics: Indianapolis Social Events, Events at the Indiana Roof, Big Ten Conference Events, Sports Events, Corporate Events & Parties, Indianapolis Corporate Event Venue, Event Entertainment, Event Themes