The Indiana Roof Ballroom, affectionately called the "Roof," has been an important part of downtown Indianapolis since 1927 when it first opened it's doors. Located above the Indiana Repertory Theatre, it has hosted famous performers, big band dances, fundraisers, corporate parties, weddings and special events for nearly a century, and is considered one of the most historic venues in the entire Midwest.
Dreamed up in 1926 by Edgar O. Hunter and Preston Rubush, the Roof first opened in September of 1927. Designed to appear as if you were in a European village, no detail was forgotten. Painted grapevines creep up plaster columns and the stucco facades, doorways and balconies contain exquisite details and even the staircase railings have ornate woodwork. The domed ceiling resembles a starry night sky, with soft clouds and a crescent moon.
The 8,700 square foot circular dance floor began with one small square in the center of the floor and from there, it was expanded with small boards to create the 100 foot wide floor that is still used today. The floor, which famous performer Lawrence Welk termed "the most comfortable dancing surface in the world," due to two subfloors and a cushion layer, was well-used by people in the '30s and '40s who came to enjoy big bands.
The big band era further customized the ballroom into what it is today. The Betsy Ross Candy Company added a sweet shop and soda fountain next to the stage for a unique touch and from 1931 to 1936, two employees rated the big band performers on a stage door; four stars, the highest rating, were for excellent performers. Cab Calloway and Jan Garber were among those to get four stars and the raters awarded themselves five stars each. The door remains in the ballroom today and is an important part of our history.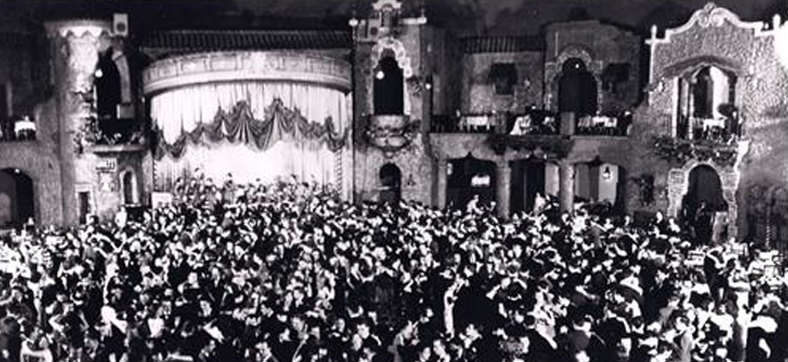 Famous people have always frequented the Indiana Roof Ballroom, its no mystery why. The Indiana Roof is a "one of a kind place" from the day it was constructed in1927 until today. Theres nothing like The Roof. The Indiana Roof has Hosted the most exclusive parties from every era.The Parties were rebound for featuring famous acts and attracting celebrity guests from all eras.
The Roof continues to be the "place to be" in Indianapolis. The Indian Roof continues to host famous performers, actors and celebrities. we are honored to have been visited by below list of guests
Actors, Television Personalities: Julia Roberts, Audrey Hepburn, Entire Cast of the Office, Don Johnson, James Earl Jones, Doris Day, Jason Priestley, Joan Rivers, Jeff Dunham, Mario Lopez, Mark Edwards, Melissa Joan Hart, Morgan Freeman, Patrick Dempsey, Paul Newman, Danny Devito, Carson Daily, and Jane Krakowski, Arnold Swarzenegger,
Musicians: Elton John,Bing Crosby, Tommy Dorsey, Frank Sinatra, Commodores, Cool & The Gang, Katharine McPhee, Gene Simmons, Harry Connick Jr, Jamie O'Neal, John Mellancamp, Kenny G, Ludacris, The Ohio Players, The Pointer Sisters, Tony Bennett, Jessica Simpson, Maroon 5, Journey, Temptations, Lyle Lovett, David Sanbourn,
4 Top's, K C & Sunshine Band, Kelly Pickler, Chick Corea, Sammy Kaye, Michael Franks, Grover Washington Jr, The Blues Brothers, Lyle Lovett, Luciano Pavarotti, Stevie Wonder
Politicians: President's John F Kennedy & Harry Truman, Bill Clinton, George W Bush Sr & George Bush Jr, Senator Robert F Kennedy, Secretary of State Colin Powell. Prime Minister of Great Britain Margret Thatcher
Athletes
Pro Football Players; Bob Griese of the undefeated Miami Dolphins, Payton Manning, Coach Tony Dungy, Track Star Florence Griffith Joyner, Auto Racing greats: Mario Andretti, Brothers Bobby & Rick Unser, A J Foyt, Roger Penske, Danica Patrick, Parnelli Jones, Helio Castroneves Biker, Lance Armstrong, Basketball great; Reggie Miller and the list goes on and on