I was recently looking through articles and came across an excellent article that explained how to find the perfect wedding venue. After reading through the article I realized that The Indiana Roof Ballroom is the perfect wedding venue - and the reasons why are below!
A Roomy Fit
The first was that the space have "A Roomy Fit" – That is easy, we can fit up to 800 guests, but our average wedding is 180 – 200 people; allowing ample space for a dance floor and so that guests do not have to be squished around tables just to fit.
Eating, Drinking and Partying Areas
Next they pointed out having "Eating, Drinking and Partying Areas" – We use the bar lobby and promenade area for the cocktail reception, and then switch to the ballroom for dinner and dancing.
Privacy and Lighting
The next two items were "Privacy" and "Lighting" – When it comes to privacy the article described having a space that does not allow general public to walk through; as we are rented out you don't have to worry about any unwanted guests entering the space during your wedding. As for "Lighting" we have so many unique theatrical options that you can incorporate into your ceremony and reception that it will be plenty bright and one of a kind!
A Great View and The Right Color
The next two go hand in hand, "A Great View" and "The Right Color" – Our space, while it does not look outside, has such a unique feel it does not really need any extra decorating. The architecture within the space, and the hand painted ceilings is enough décor and blends in with most wedding colors, which helps you stay within your budget – also an added bonus!
Ample Outlets and Good Acoustics
"Ample Outlets" and "Good Acoustics" also go hand in hand. These two are simple - when the historic Indiana Roof Ballroom was first built was built for dances, therefore, we are equipped with plenty of plug-ins for your band or D.J. – and the acoustics are great!
Plenty of Parking
Lastly "Plenty of Parking" was listed in the article – We are attached to the Embassy Suites Parking garage, but being downtown there is also a TON of other parking options within one block of us!
We really strive to be one of the most accommodating wedding reception venues in Indianapolis, and the article really helps go through some of the important things to look at when choosing your wedding venue. To read the article, click the link below:
http://wedding.theknot.com/wedding-planning/planning-a-wedding/articles/finding-a-wedding-reception-location.aspx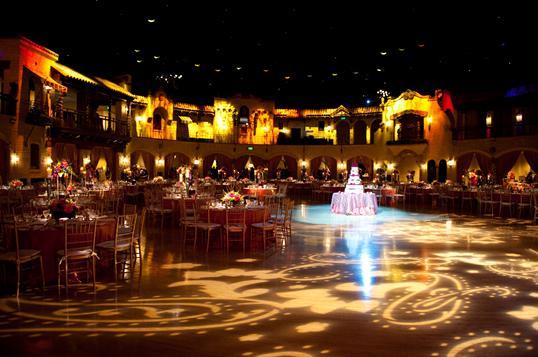 Related Topics: Event Catering, Indianapolis Wedding Venue, Wedding Catering, Wedding Dances, Wedding Ideas, Wedding Receptions, Wedding Venus, Weddings, Indianapolis Weddings, Indianapolis Wedding Reception Venues