Butler University Dance Marathon hosted their annual celebration Gala at the Indiana Roof Ballroom on January 17, 2014. The Indiana Roof Ballroom was thrilled to take part in Butler University's fundraiser to benefit the families of Riley Children's Hospital. The charity fundraising event included dinner, dancing, entertainment and a silent auction to raise money for Riley Hospital for Children. Guests were also privileged to hear the inspiring stories from several Riley families.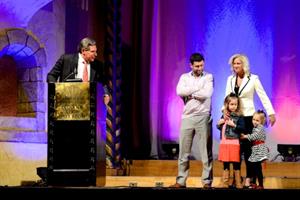 The event was a smashing success!

BUDM is the largest student-led organization at Butler University. The dance marathon itself was held at Butler University the weekend prior and BUDM raised a total of $174,119.25 for the kids.
If you're interested in hosting your own event at the Roof, contact us for more information! We hold corporate events, fundraisers, parties, and other special events! Our venue is also the perfect location for a wedding ceremony or reception.
Related Topics: Indy Corporate Meeting Facility, Indianapolis Event Catering, Fundraisers & Non-Profit Events, Social Events, Special Events, Indianapolis Fundraiser Venue, Indianapolis Non-Profit Event Venue, Riley Children's Hospital, Butler University Dance Marathon