You have chosen your venue and now it's time to collaborate with the caterer on what food service options work best based on your event type, audience, and budget. But don't stress, with over 40 years of catering experience you are in the right hands with Crystal Signature Events. Each of our three distinctive downtown Indianapolis venues includes the full-service expertise and experience of Crystal's in-house culinary and event professionals to guide you through the entire planning process, including your different catering options. Let's start by defining the different catering service types.
Hors d'oeuvres
Hors d'oeuvres are a great way to greet your guests. They can be a tasty bite before the main meal, or for shorter events, like a networking function, they can serve as the only food offering. Hors d'oeuvres can be butler passed or stationary. We recommend offering a variety to include a meat option, seafood option, and vegetarian or vegan/gluten free option depending on the formality of the event and predominant guest needs.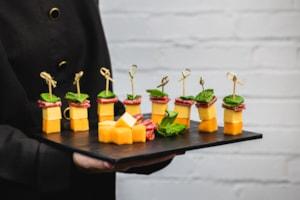 Plated Service
A plated meal is what most people refer to as a sit-down meal. Most often chosen for more formal events and work well logistically for a larger guest count so that no one has to get up to get their food. Guests typically indicate in advance of food allergies or restrictions so the caterer is prepared. Plan for around two hours for a full plated service meal. If you really want to add a "wow factor," talk to your salesperson about a synchronized salad or dessert parade - it's a must see at The Indiana Roof Ballroom.
Buffet
Buffets are a little less formal and allow for multiple options so guests can build their own plate and come back for seconds. Be sure to make accessibility accommodations for any guest that would require assistance at the buffet stations. Caterers will know how many buffets to set-up based on your floor plan and guest count. The farmhouse grazing tables are a guest favorite at The Heirloom.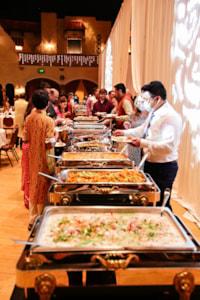 Family Style
Family style is a combination of plated and buffet. Guests remain seated at their table, but the food is served in sharable portions that remain at each table, allowing guests to serve themselves. Family style creates a more homey feel and is a great way for the guests to interact and get to know each other. Somebody pass the warm artisan rolls please!
Food Stations
Food stations are perfect for shorter events where an entire meal isn't needed, or as a starter prior to a sit-down meal. Having food stations forces the guest to move and mingle, which makes it a great consideration for networking and cocktail events. Food stations allow venues extra creativity in their set-up like how The Crane Bay suspends their food stations from the cranes positioned throughout the venue.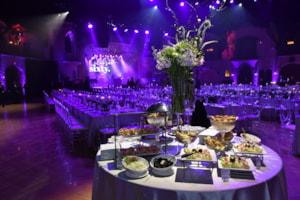 Live Action Food Stations
Live action food stations are made to order by one of our chef attendants, creating a participatory way for guests to customize their food according to their preferences and dietary needs. They also act as a form of entertainment allowing guests to interact with our culinary team and be fully immersed in the event.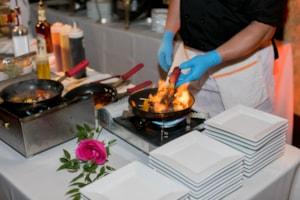 Small Plate Food Stations
Small plate stations are assembled to order and resemble a mini version of a plated meal, in which they are well balanced with a protein, meat and starch. Similar to a live action station, there is an attendant that can plate based on dietary restrictions, but since the food is already prepared, it speeds up the process.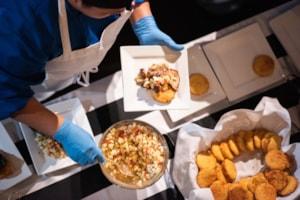 As the culinary experts, your Crystal team will walk you through the below points to assist in determining which of the above catering service options works best for your event, ensuring no detail is missed.
Your Audience
Determine how formal of an event it is
Do your guests commonly attend events similar to these? If so, culinary creativity is important.
What are the ages of your guests? Menu choices will vary if this is a corporate event, charity fundraiser, wedding, or family social gathering
Consider food allergies and dietary restrictions
Be aware of any religious food requirements
Menu Choices
Recommendations on number of entrees, sides, and desserts
Options that include both lighter fare and richer choices
Interest in locally-sourced food and seasonal dishes
Including health-conscious food and vegetarian or vegan options
And Now For The Fun Part...
Walking you through everything from menu design to creative food displays to signature cocktails, your professional Crystal catering team will be a bountiful, collaborative resource for you as you make your final menu decisions. Scheduling a tasting can also assist in confirming your menu choice and service type. Below are some innovative menu options Crystal Signature Events has recently created.
Related Topics: