At the Indiana Roof Ballroom we work to make every corporate party, social event or wedding one of a kind. One way we can customize events is with the many different types of lighting opportunities we have to offer.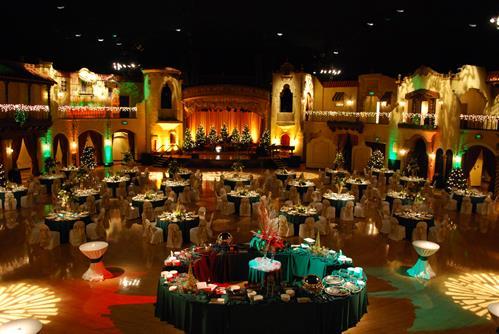 I was reading the article linked below that shows the before and after shots of events with and without lighting. I thought this article would be a good reference as to how important lighting truly is, and how lighting makes every event one of a kind.
We are able to do amazing things with the lighting; whether it is the different color façade lighting, gobo patterns on the floor, pin spots on the center of every table, or even a simple star and moon effect on our domed ceiling.
The image above is from a corporate event we had last week in downtown Indianapolis. To see more corporate or social event images with the different lighting opportunities take a look at our Indianapolis event venue photo gallery.
Related Topics: Indianapolis Wedding Ideas, Indianapolis Corporate Events, Indianapolis Party Venue, Best Indianapolis Venues, Best Indianapolis Wedding Venues, Downtown Indianapolis Wedding Venues, Event Décor, Indianapolis Banquet Hall, Indianapolis Event Venue, Indianapolis Weddings