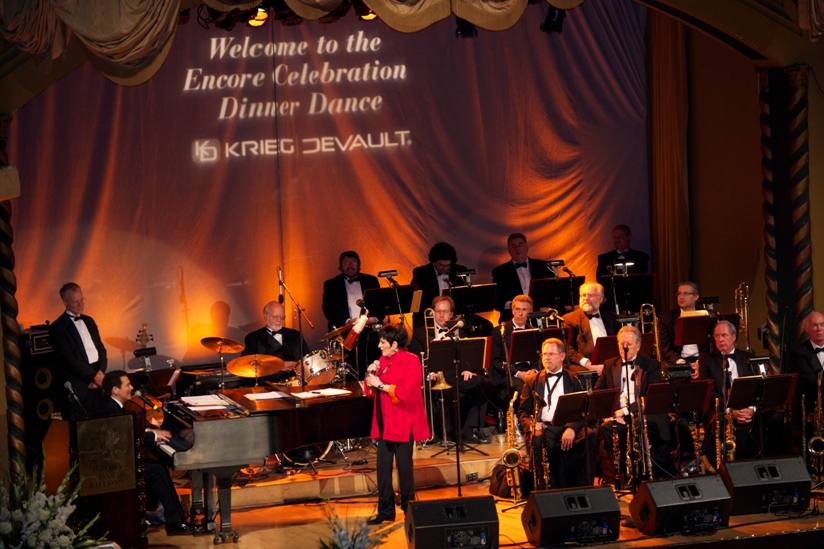 The Indiana Roof Ballroom, Indianapolis event center and banquet hall, was thrilled to welcome Liza Minnelli and Micheal Fienstein to join the long list of famous performers to capture the amazement of guests at The Great American Songbook event on June 28, 2013. The "Encore Gala", as it was called, is the annual fundraising celebration for The Palladium in conjunction with an awards show the following evening at The Palladium, in Carmel, to honor musical icons . The guests fortunate enough to attend were treated to creative cocktails, a piano bar, delectable hors d' oeuvres, an extensive silent auction, an exquisite three course meal and first rate entertainment. The entertainment was highlighted by musical performances by Liza Minnelli and Micheal Fienstein. Liza commented when entering the historic Indiana Roof Ballroom,
"It's beautiful, I feel like I'm walking into a movie set".
The magical night was another high note for the Roof and all in attendance. The beauty of the Indiana Roof Ballroom continues to delight guests and celebrities alike and the history of it's famed stage continues to grow with each thrilling performance.


Related Topics: Indianapolis Social Events, Indianapolis Social Event Venue, Social Events, Famous Guests of the Indiana Roof Ballroom, Event Entertainment, Indianapolis Corporate Catering