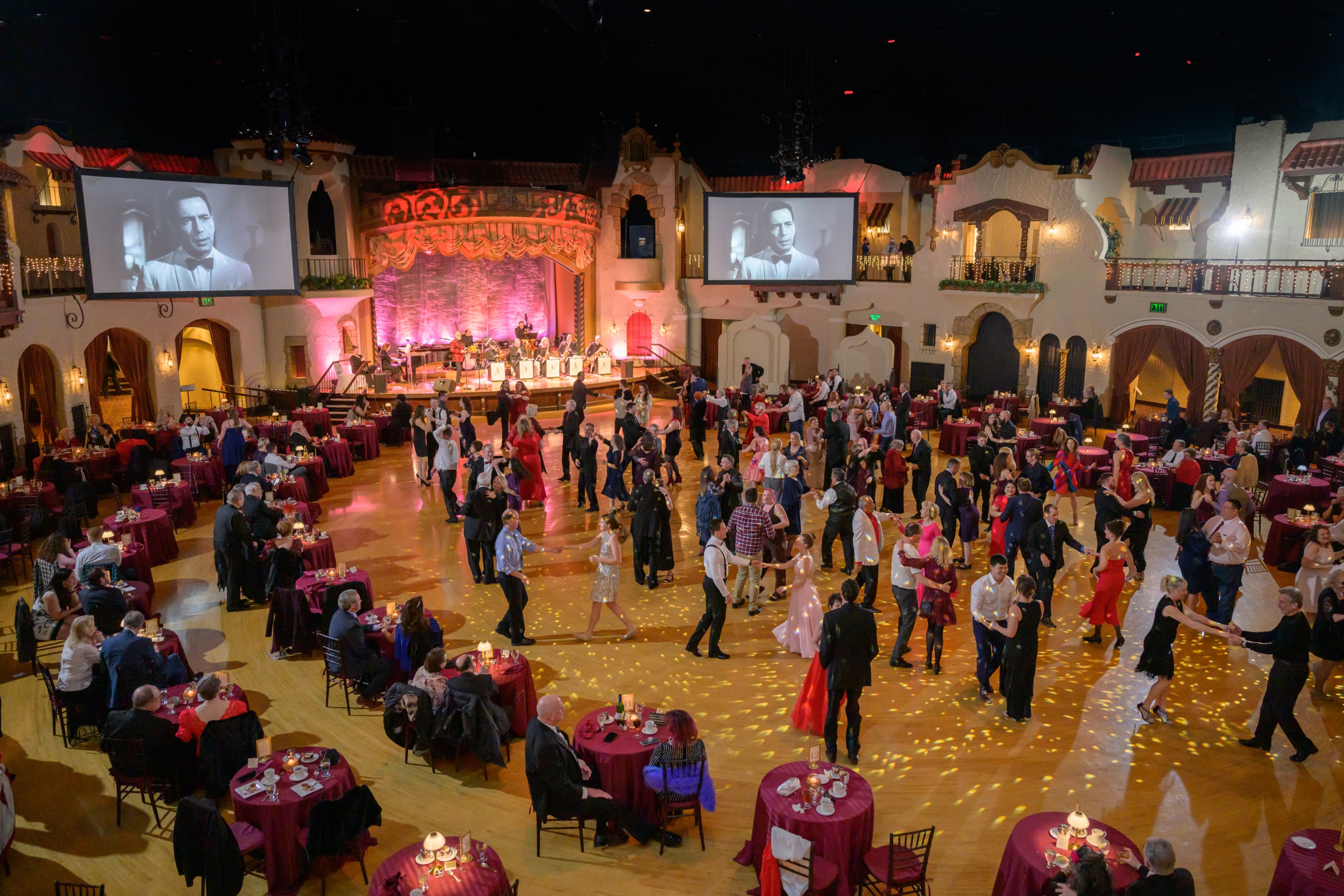 A tradition was reborn as a crowd of roughly 300 elegantly dressed guests danced and dined the night away at The Indiana Roof Ballroom for The Valentine's Day Dinner and Dance. Crystal Signature Events was excited to reignite this annual event which originally started in 1928 and had lasted for over 50 years.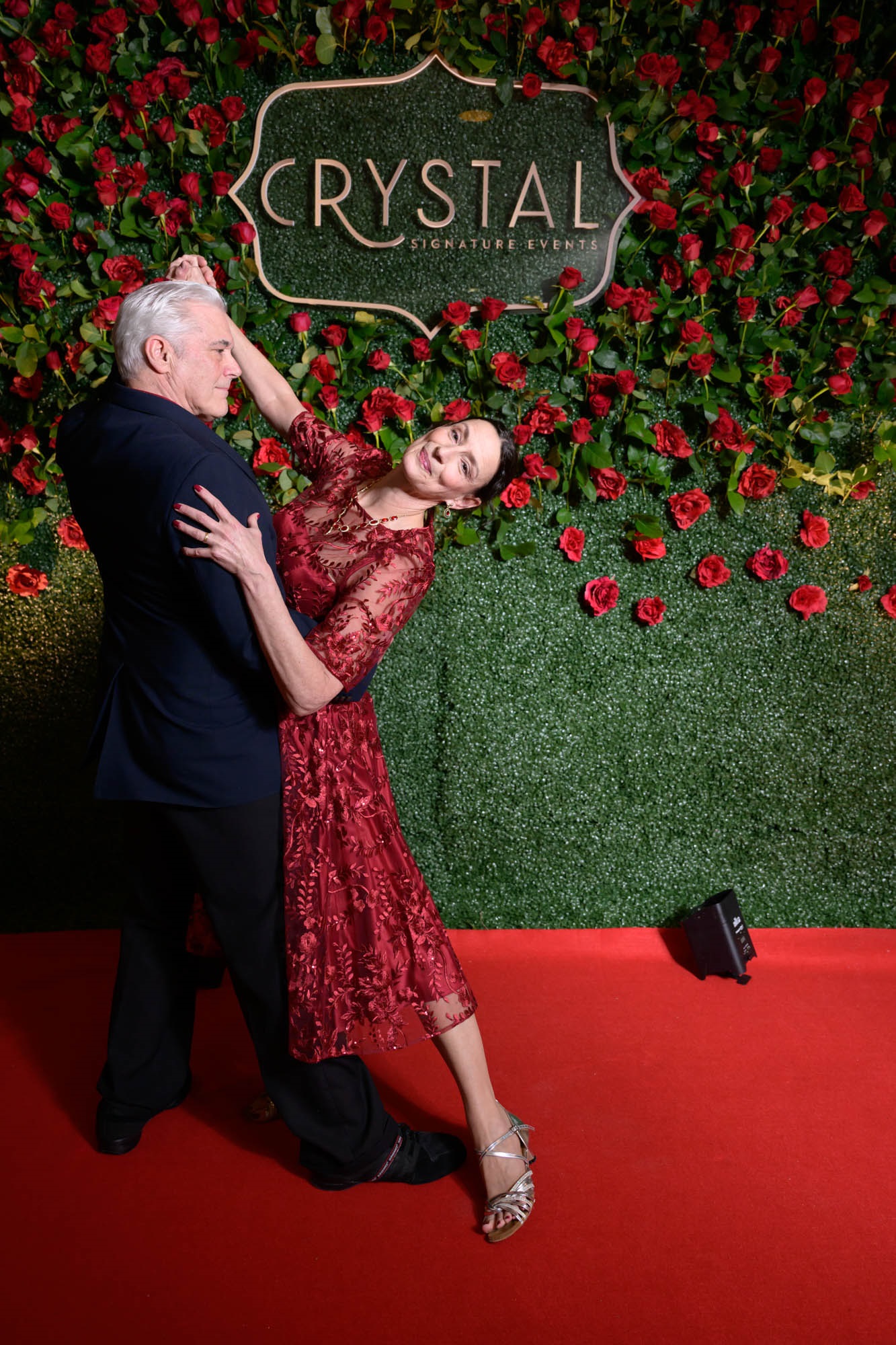 Upon arrival, guests were greeted with butler-passed hors d'oeuvres of Brie with Raspberry Preserve Tartlets and Mini Beef Wellingtons, courtesy of Crystal Signature Events catering. And who needs a bouquet of flowers to celebrate this day devoted to love when you could instead enjoy the signature cocktail, "The Sweetheart" which was garnished with a hibiscus flower and boasted floral flavors of elderflower and rose. As guests were seated for dinner, all admired the alternating burgundy and merlot-colored linens and mahogany Chiavari chairs. Not a detail was missed, from the floating candles and floral centerpieces down to the individual rose-shaped butters.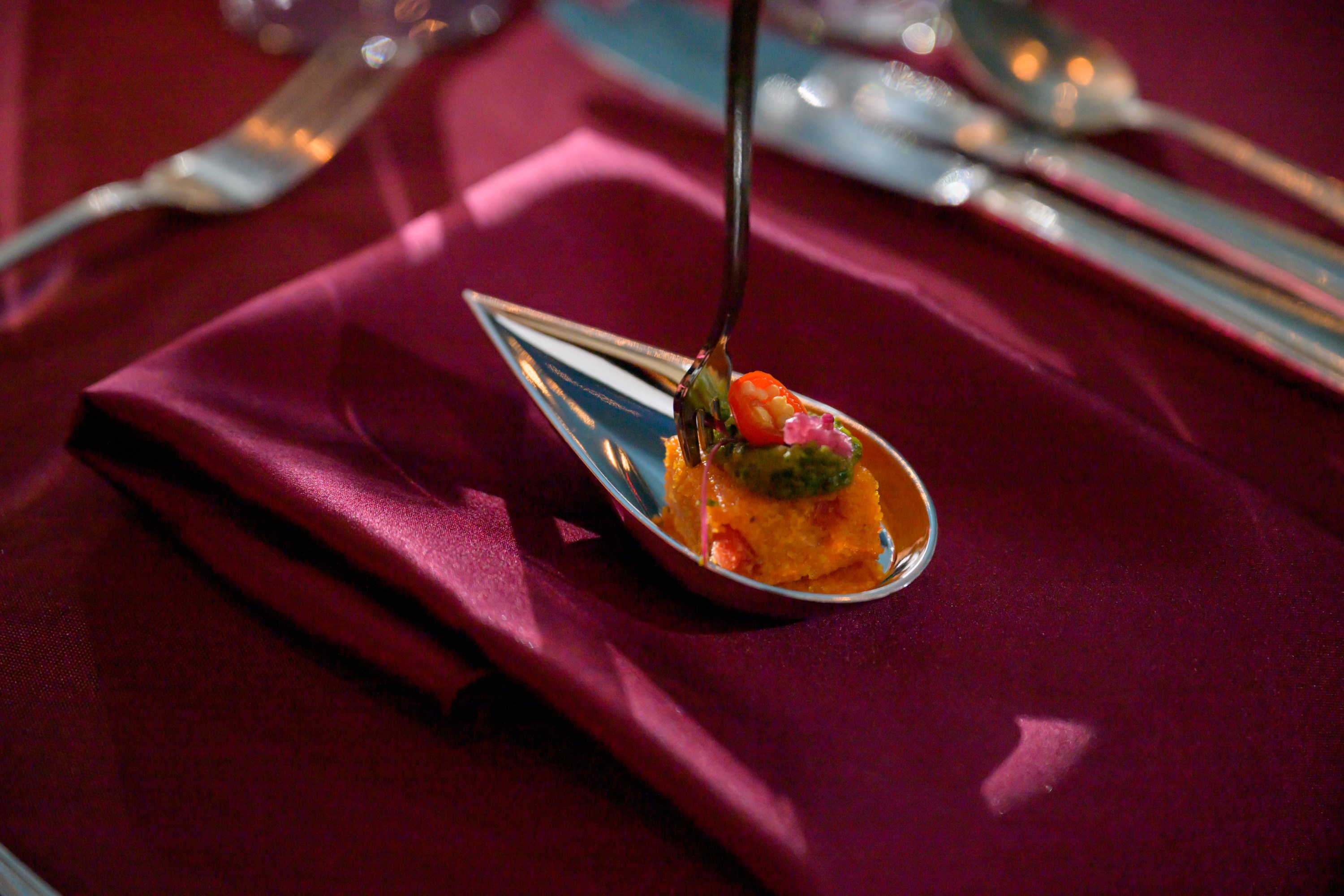 The Indiana Roof's signature thunderstorm sound and light show kicked off dinner service and after a brief welcome, a synchronized server parade brought out the salad course. From the sight of the Amuse Bouche of Polenta with Arugula Pesto served on a spoon, to the smell of the duo-plated entree of Chicken en Phyllo with Spinach and Feta and Medallions of Beef Tenderloin, to the taste of the creamy New York Style Cheesecake with Strawberry Coulis Ribbon, Chef created a 4-course menu that delighted every sense and fulfilled every craving.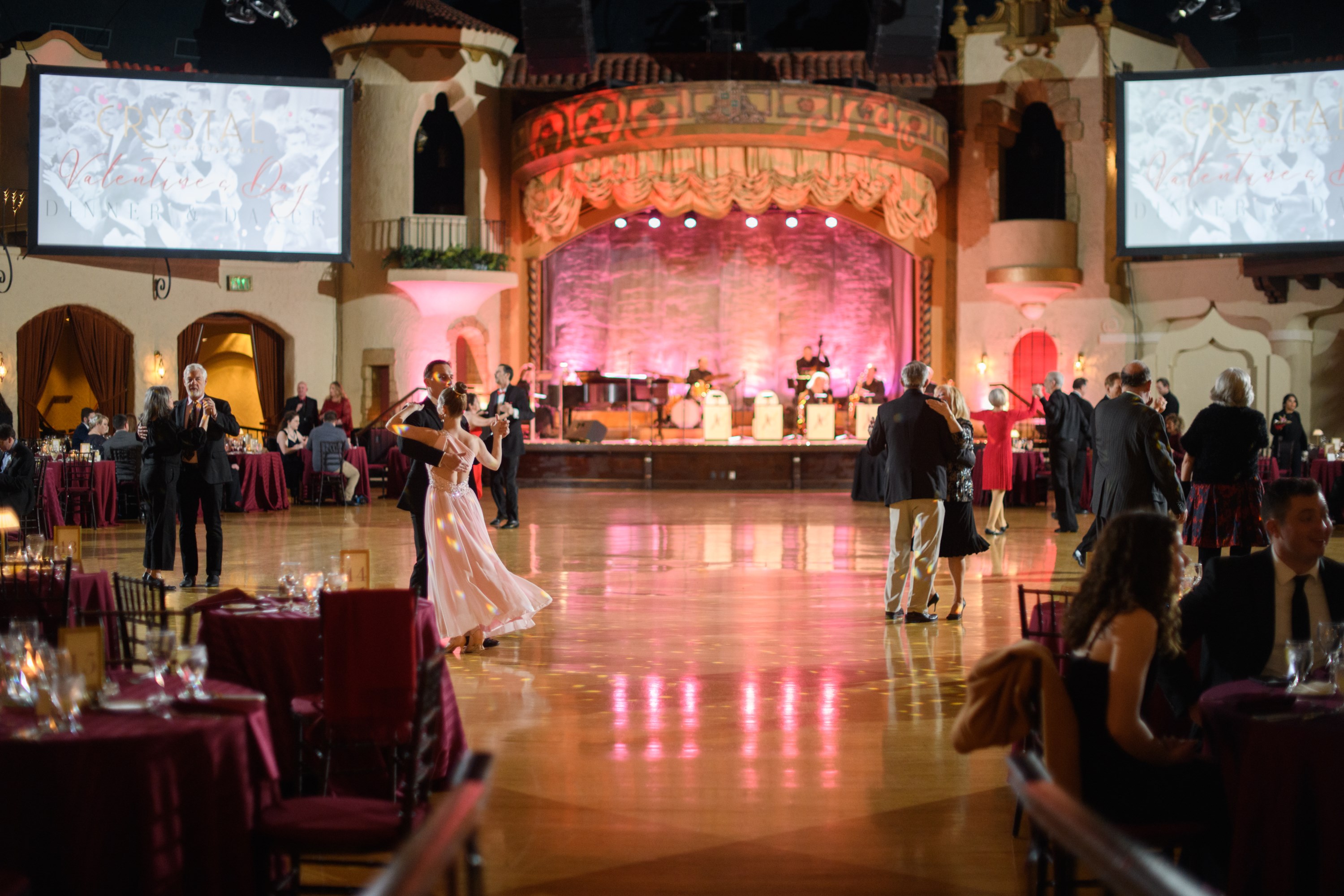 After dinner, it was officially time to dance thanks to the Indianapolis Jazz Orchestra. Guests were not shy as they swung and swayed to their favorite jazz tunes, just like they did back in 1928 - or like in 1990 when one couple that attended got married at The Indiana Roof. They were excited to be back for another night celebrating their wedding memories and their love together. We also appreciate these kind words we received post-event,
"We enjoyed our Valentine's Day evening at The Indiana Roof. We loved the music, the delicious meal, and the table settings. Thank you everyone for planning a wonderful and perfect event!" - Diane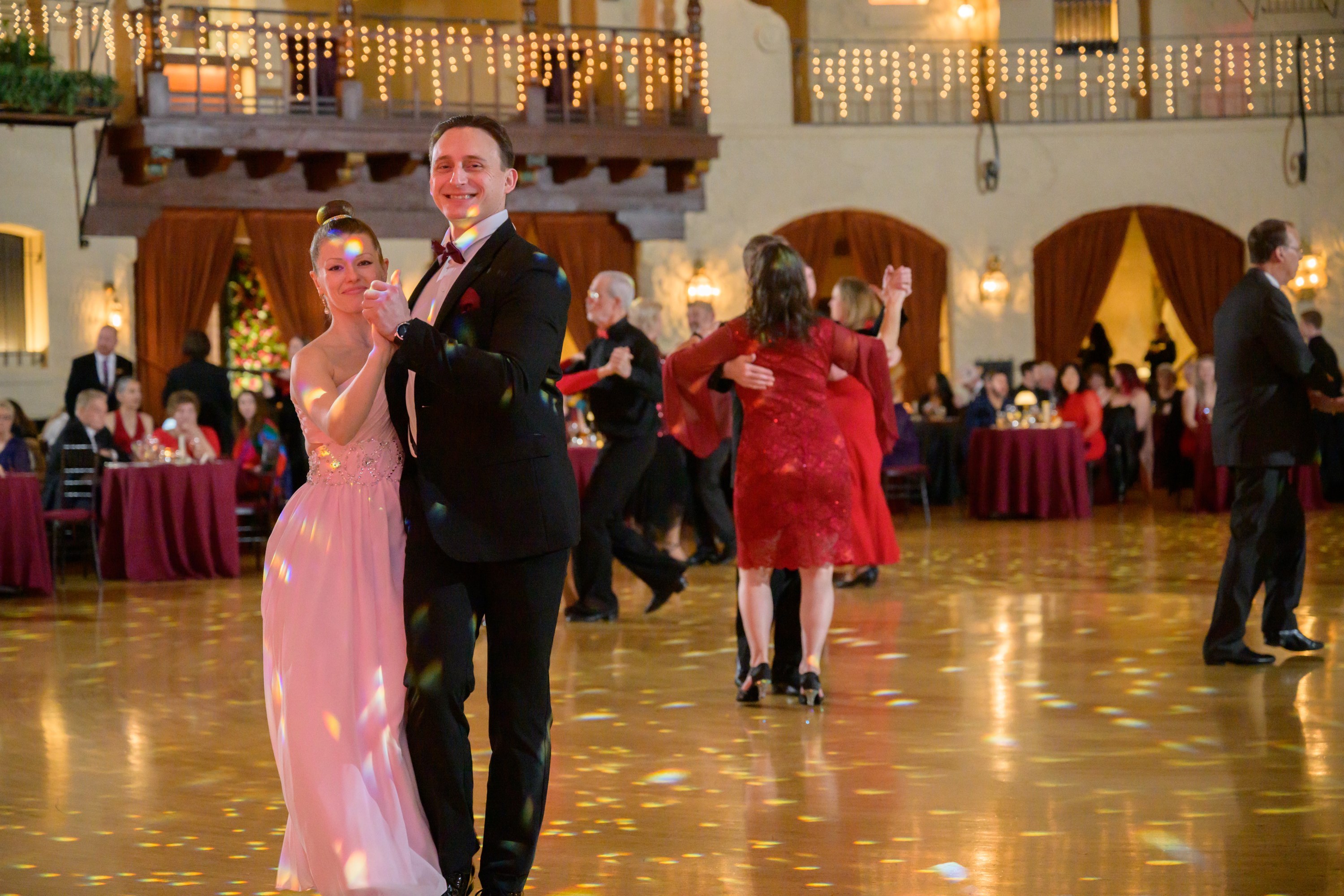 Truly, we thank everyone that attended this special Valentine's Day Dinner and Dance that we brought back to life. If you're looking for fun, consider joining us for an upcoming Big Band Dance Series event or a future featured event put on by Crystal Signature Events.
Our Valentine's Day Dinner and Dance event would not have been made possible without our fabulous vendors:
More Valentine's Day Event and Venue Photos
Related Topics: Downtown Indianapolis Venues, Best Indianapolis Venues, Unique Venues, Indianapolis Event Venue, Indianapolis Special Event Venue, Best Dance Floors, Indianapolis Event Catering, Indy Big Band & Swing Dancing, Indianapolis Social Events, Event Catering, Indianapolis Events