I wanted to write a short blog today about how creative our culinary staff is here at the Indiana Roof Ballroom. We are a full-service catering facility, meaning we have our kitchen on site. Being a full-service facility provides tons of advantages when holding a wedding or corporate event here. Our executive chef and sous chef love to come up with creative food styling and unique menu choices that are customized to your event's theme.
In preparation for an upcoming event where pork is the main feature, our talented sous chef created Apple-wood Smoked Bacon dipped in chocolate! Now I know I previously had a blog, that clearly showed my love for chocolate, but one of my other favorite foods is bacon! Combing the two is like going to food heaven for me, and I am sure that many of you can agree!
Here is a picture of the chocolate covered bacon that was so delicious!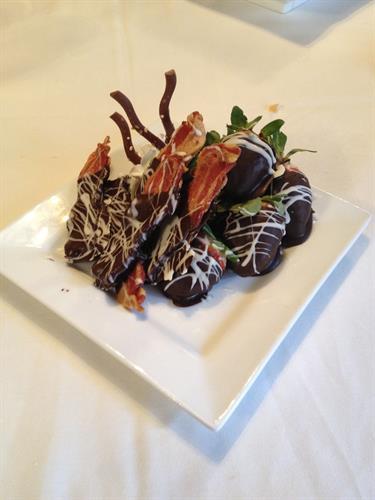 Check out our event and wedding galleries for photos and ideas for your wedding or special event.
Related Topics: Corporate Events & Parties, Event Catering, Indianapolis Party Venue, Indianapolis Wedding Catering, Wedding Ideas, Weddings, Corporate Catering, Indianapolis Corporate Catering, Indianapolis Event Catering, Indianapolis Wedding Reception Venues, Menu Creation, Wedding Menu Tastings