As the New Year begins, we hope that everyone had a great holiday season. Our staff definitely enjoyed the couple days off for the holidays, but we are ready to get started with 2013's events. Our first event of the year was this past Saturday in downtown Indy.
Proms, Weddings and More
The interesting thing about this wedding was that the bride had been to our venue previously for her high school prom. We always ask brides and grooms if they have ever been to an event here, and so often we hear our clients say that they were here for their proms. One of the things that we love so much is that our clients fall in love with the venue in high school, get married here several years later, and then celebrate their 50th wedding anniversary with us even farther down the road.
The mother of the bride and bride came up with a very clever idea that they shared with us. They purchased red and white corsages, representing the colors of their high school, for their guests who had attended the prom with the bride.
One of a Kind Events
We love having the ability to create such one of a kind events, allowing clients to have multiple events with us, as each event is able to have a unique feel. To view pictures from some of the different events and weddings here at the Indiana Roof Ballroom, check out our event galleries.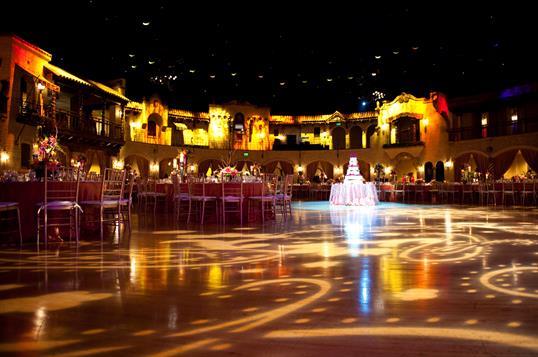 Related Topics: Indianapolis Party Venue, Wedding Ideas, Weddings, Wedding Receptions, Indianapolis Wedding Reception Venues, Indianapolis Weddings, Prom Venues in Indianapolis